Due March 23rd.  This continues the lessons  using Color as a story telling device.   You will have to turn in TWO photographs of different subjects while using a blue/orange complementary color palette at the EXCLUSION of other colors. (see below for examples)For this, stay away from black and white photography and instead attempt to find or create a scene. At least one photograph MUST CONTAIN A PERSON.
Due March 23rd.
You may remember from the last lesson that Complementary colors are especially pleasing to the eye because different types of photoreceptor cells, which contribute to color vision, perceive different types of light in the color spectrum.
Blue/Orange is a bit unique because of how its used in terms of skin tone.  Most skin tones fall somewhere between pale peach and dark brown, leaving them squarely in the orange segment of any color wheel. Blue and cyan are squarely on the opposite side of the wheel.
You may remember from preschool that "opposite" color pairs like this are also known as "complementary" colors. That means that, side-by-side, they produce greater contrast than either would with any other color. And when we're talking about color, contrast is generally a desirable thing.
One theory — which originates with blogger Todd Miro — is that the orange-and-blue trend is driven by this affinity for contrast. If you make your actors as warm and orange as plausible while making them still look human, and make the shadows and the background as blue as possible, you'll have a vibrant screen, and a pretty complementary palette.
TV Tropes' entry on orange-and-blue color schemes pointed out that, while it might not be naturalistic, the color combination packs a semantic punch:
"Unlike other pairs of complementary colors, fiery orange and cool blue are strongly associated with opposing concepts — fire and ice, earth and sky, land and sea, day and night, invested humanism vs. elegant indifference, good old fashioned explosions vs. futuristic science stuff. It's a trope because it's used on purpose, and it does something."
Below are examples of staging blue/orange scenes through settings, lights, or wardrobe or recognizing blue/orange scenes and photographing: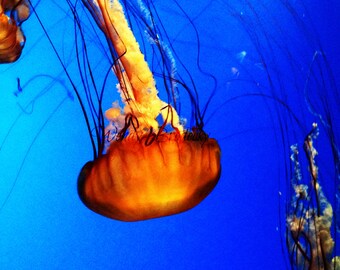 Examples of Blue/Orange in movie stills:
Blue/Orange is print media: